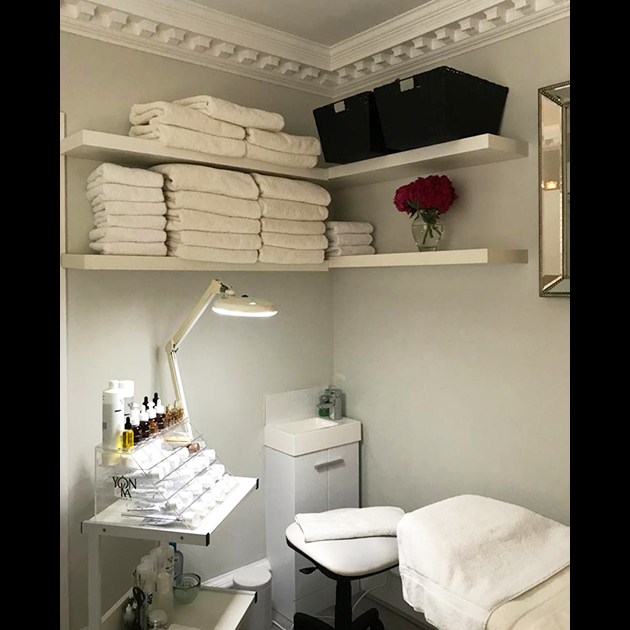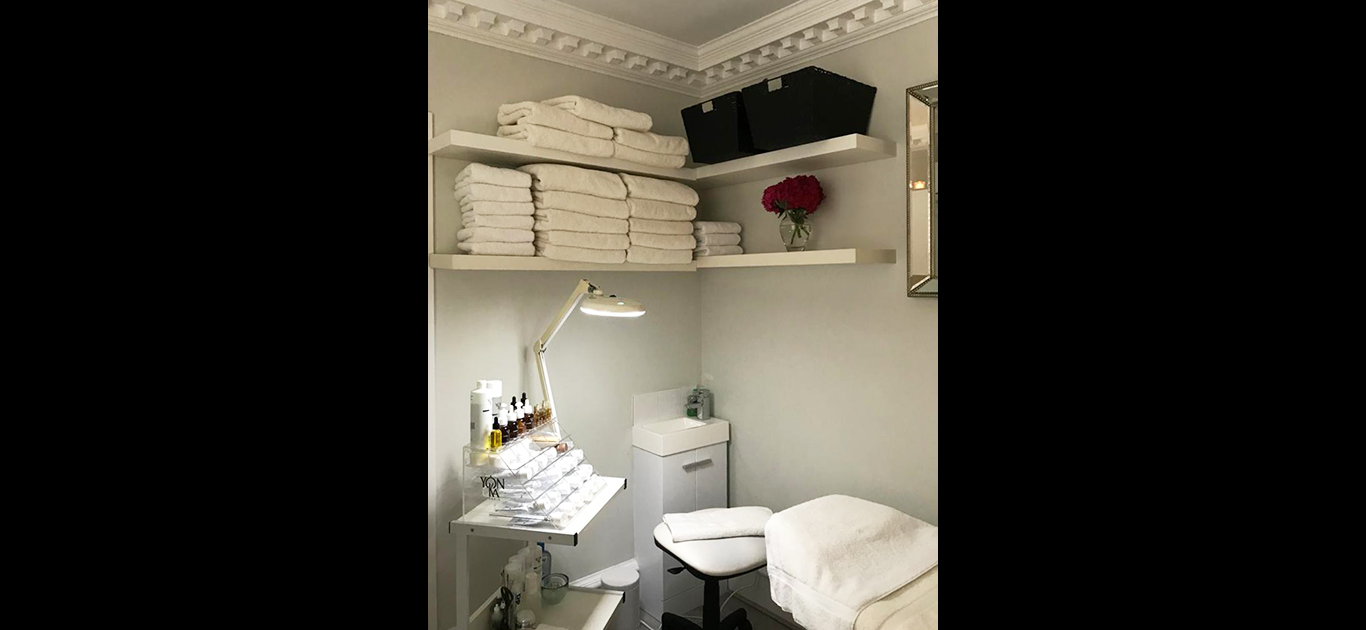 Treatments
A list of all treatments offered at the clinic, from the signature facial to the tailored course.
This five-star treatment combines 7 multi-technology in one facial.

Hydro Peel / Deep Cleanse • Exfoliation • Oxygenation • Hydration • Skin Lifting • Skin Tightening • Fire & ice

1. Hydro Peel / Deep Cleanse uses a combination of three solutions to cleanse and smooth the skin using an AHA based solution. It hydrates and nourishes the skin using an RH-Oligopeptide-1 and Acetyl Hexapeptide base. Bacteria and inflamed skin is improved using a BHA based solution.

2. Exfoliation / Oxygenation creates 'the Bohr effect'*, allowing oxygen to be drawn into the skin. The active ingredients used are Kojic Acid and Retinol which result in a hydrating and brightening effect.

3. The Oxygenation spray creates a venturi effect, breaking down the molecules within the product to encourage skin hydration.

4. Hydration – Ultrasound technology is used for product infusion. This treatment is for anti-ageing and hydration around areas where fine lines and wrinkles are likely to appear. It's thermal action has a stimulating effect on the blood flow and activates cell metabolism. The biochemical affects influences the fibroblasts and stimulates new collagen.

5. Skin Lifting treatment uses electroporation to increase the absorbency of the cell for product penetration. This, in turn, revitalises and 'wakes up' dull and lifeless skin.

6. Skin Tightening – Radio Frequency technology is used to increase collagen reproduction.

7. Fire and Ice – The 'fire' represents the heat element during the treatment. Heat is incorporated to dilate the pores for deep cleansing, increase blood supply, and aid product infusion. And help to repair and strengthen the skin elasticity, the 'Cryo' uses cooling technology, chilling the skin down to 5 ̊C. This is used at the end of each facial to decrease the bloody supply, giving a tightening effect, and sealing in the infused products. This also helps to reduce any erythema following the treatment.
Caci Ultra
60mins - 70mins
Tones and lifts the skin using CACI ultra which is the best toning and lifting treatment on the market. The treatment works on re-educating every muscle on the face, using a micro current. Vividly presenting instant results from the first treatment. For intensive hydration and skin firming,

the collagen mask is applied for intense hydration, brightness and tightening.

The Wrinkle Comb combines LED photo stimulation with high frequency stimulation. The synergy of these two technologies effectively plums out and softens deep lines, wrinkles, blemishes. Caci £140 Caci & collagen mask £215.
Diamond Aqua Microdermabrasion
75mins
A unique and non-invasive treatment that combines a diamond tipped wand with vacuum massage to remove dead skin and resurfacing the top layer leaving skin supple and vibrant. This is an advanced method that can be used with all skin types.
A luxurious collagen mask is applied to the contours of the face allowing the collagen to penetrate through the skin acting as a powerful brightening, moisturising and hydrating treatment. After this treatment the skin becomes alive and is more radiant.
Le Visage
75mins - 90mins
Unique facials that are tailor made for the client and their needs. The facial is a deep cleansing treatment with a micro peel that helps to speed up skin renewal, even skin tone and soften lines and wrinkles.

AHA: Pyruvic, lactic,mandelic acids. BHA: Black willow extract rich in salicylic acid.

The massage for the face is a very important part of the facial as it detoxifies and also brings oxygen and nutrients to the skin. The massage is aimed at pressure points alongside the photo drainage massage that caters for overall, general well-being.

Le Visage –  1 hour & 30 mins £220
The signature facial that is tailor-made for each clients concerns and needs including Microneedling.
3D- HIFU Face is a non-surgical facelift treatment using high intensity focussed Ultrasound to lift & tighten loose or sagging skin on the neck & face without any downtime. The Science 3D HIFU face focuses energy to stimulate the deep support layers of the skin without causing damage to the skin surface. The treatment stimulates the growth of new collagen resulting in a lifted, firmer & toned appearance of the skin. What to expect Results will develop over the course of 2-3 months with some clients experiencing continued improvement for up to six months. Whilst the 3D HIFU face procedure will not be as invasive as surgical intervention, it is an exciting alternative for those clients who do not want to under go surgery. Why 3D HIFU Face ? No Downtime • Minimal pain • Backed by surgeons as a safe alternative to surgery. • Low cost alternative to surgery • Fantastic Results Full face & neck £1,665 Full face £1,015 Lower face £770 Full Neck £770
Alpha-Vital Facial
75mins
A resurfacing AHA-BHA treatment for dull, tired skin. This anti-aging treatment brings out the skin's natural glow, restoring smoothness and youth. Intensively moisturising action of controlled fruit acids, the epidermis is gently regenerated, cellular renewal is intensified and the complexion is brought back to life.
L.D Facial Massage
30mins
Lymphatic Drainage Massage – This specialised massage uses precise, rhythmic hand movements and light pressure on the skin to influence the direction and speed of lymphatic flow. It produces a state of deep relaxation and breaks down fatty tissue, helps eliminate toxins from the body and boosts lymphatic drainage to improve the body's immune system and help combat illnesses. Afterwards you'll feel incredibly relaxed and detoxed. A Lymphatic Drainage Massage is the ideal skin treatment following a surgical treatment.
The Signature facial including clinically proven HIFU technology. A Tailor-made treatment individually designed for you. This techie facial will: Rejuvenate • Cleanse • Tone • Tighten • Lift • Improve skin texture • Stimulate new collagen • Improve circulation • Soften lines • Improve skin tone • Hydrate / moisturise • Improve blemishes / congestion • Brightening • Add radiance • Stimulate cell renewal This treatment will be performed on two separate appointments.
The signature facial including Cryo. Cryotherapy is a great freezing device used to chill the skin to minus temperatures making the blood vessels constrict, increasing blood flow, reducing inflammation & increasing microcirculation. This treatment has a wonderful tightening effect. The skin will be left feeling awakened and refreshed.
DPM8 Microneedling
30mins
"A revolutionary microneedling treatment which aims to tighten, lift and rejuvenate the skin." Dermapen promotes scar-less healing and natural collagen reproduction, similar to fractional laser treatment, IPL laser resurfacing and chemical peels but without the side-effects and downtime. It can effectively treat hard to reach places in a very effective way. (e.g., around the eyes, nose and lips.)
Radio frequency treatment – By generating a high frequency electric field electrons inside molecules begin to rotate, this provides a thermal effect on the dermis which activates the fibroblasts and the production of new collagen. Cryo Therapy will be used which has cooling effect, this becomes more effective when used in combination with the RF treatment. Advantages are wrinkle reduction and muscle tone improvement. Visible results from first session, as it tightens, smoothes and firms the skin.
The ultimate deep cleansing facial for the back to clear, renew and relax.
This treatment is designed to meet the needs of hands being over washed and sanitised throughout the pandemic and needing much TLC. Hands will be left feeling pampered, relaxed, rejuvenated renewed & nourished. Our hands hold so much tension naturally. This is a great why to Bring them back to life.