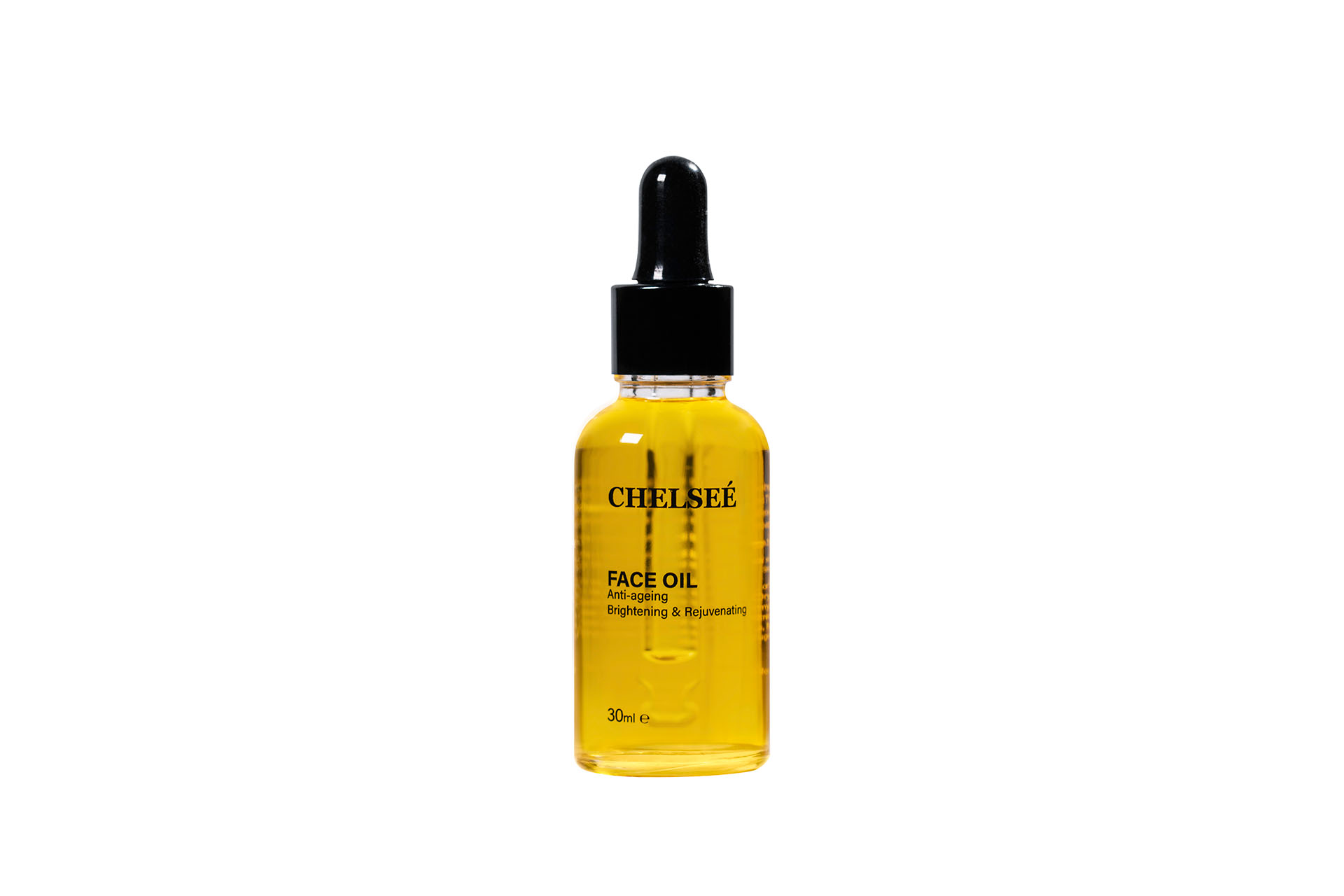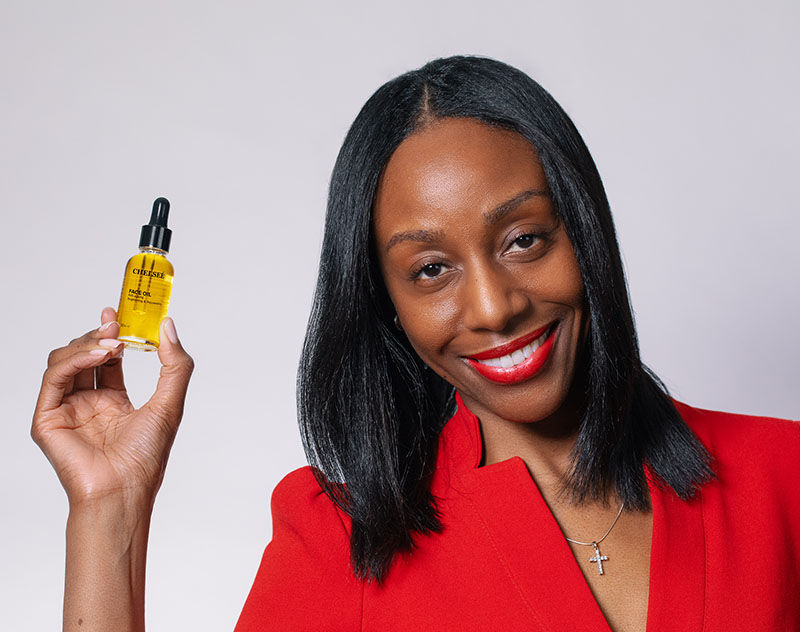 Chelseé says:
I wanted to develop a therapeutic face oil formula to support my client's quest for healthy glowing skin.
Utilising the finest plant materials such as Vitamin A enriched Cacay oil together with tunisian date seed and pracaxi oil deliver a concentrated dose of skin nourishment while our deep relaxation blend of frankincense, chamomile and sandalwood promotes a state of deep relaxation and a restful nights sleep.
The silky soft blend of oils sink into the skin effortlessly – The Chelseé blend is an amalgamation of 25 years of experience and observation of knowing what works.
THE FORMULA
Containing a powerhouse of skin conditioning and rejuvenating oils that are rich in essential fatty acids, minerals and vitamins, the Chelseé Face Oil has been formulated to help maintain the health of your skin naturally. This luxurious oil is lightly scented with essential oils that help to promote a healthy, smooth and radiant complexion while encouraging a restful nights sleep so your skin can repair and heal ready for when you wake up.
ACTIVES & OILS
TUNISAN DATE SEED EXTRACT: An excellent source of essential fatty acids and vitamin E – date seed oil is derived through supercritical CO2 extraction to produce a premium quality ingredient to support the maintenance of healthy skin.
Rich in omega 6 and 9 essential fatty acids help to promote moisturising by helping to control water loss. Tunisian date seed extract also helps to improve elasticity, firmness while nourishing the skin.
OAT OIL
Also known as avena sativa, Oat Oil feeds the skin with a concentrated dose of omega fatty acids, vitamins and antioxidants. Oat Oil nourishes, soothes, and moisturises while supporting the elasticity of the skin. Containing high levels of silica, iron, manganese and zinc – the nutrients important for maintaining healthy skin. Oat oil also contains vitamin B1, B2, D and E.
CACAY OIL
Native to the Amazon, Cacay is a light and silky oil that sinks into the skin effortlessly. Nutrient rich, it has 3 times more Vitamin A (Retinol) than Rosehip Oil, as well as having a naturally higher content of Vitamin E and F. Cacay Oil repairs damaged skin, rejuvenates a tired, dull and mature skin type.
PRACAXI OIL
Native to the Amazon, Pracaxi oil contains one of the highest concentrations of Behenic acid that is known to help soothe and repair skin. This fast absorbing oil sinks into the skin effortlessly to soften and smooth while promoting elasticity.
JOJOBA OIL
A nourishing emollient, jojoba contains 50% wax esters that are similar to the sebum of the skin. The waxes provide the oil with occlusive properties preventing moisture loss and acting as a protective barrier. Helps to restore and retain moisture in the skin.
RICE BRAN OIL
Rice bran imparts a decadent soft texture and feel to the blend. It is rich in natural plant sterols and antioxidant gamma oryzanol that moisturises and repairs the skin.
VITAMIN E & ROSEMARY ANTIOXIDANT
Both materials provide natural preservative properties to extend the shelf life of the oil.
SQUALANE
Derived from olives this lightweight oil moisturises and softens while enhancing the feel and texture of the other oils.
MARSHMALLOW EXTRACT
A skin soothing ingredient to help calm and repair the skin from daily environmental factors while you sleep.
ESSENTIAL OILS: The essential oils frankincense, chamomile and sandalwood used in this blend are known to promote a state of deep relaxation and calm while also having skin rejuvenating and healing.
DIRECTIONS FOR USE
Apply a 3-5 drops of The Chelseé Face Oil to the face, neck and décolleté with the pads of your finger tips in firm circular massage or with The Chelseé prescription face oil massage.
PRICE £ 85
Full list of ingredients
Caryodendron orinocense seed oil, Simmondsia chinensis seed oil,
Oryza sativa bran, Squalane, Oryza sativa bran oil, Pentaclethra macroloba seed oil,Parfum,Tocopherol, Prunus amygdalus dulcis oil,Phoenix dactylifera seed extract, Boswellia sacra gum/resin extract, Althaea officinalis leaf/root extract,Benzyl benzoate, Styrax benzoin gum,Rosmarinus officinalis leaf extract, Limonene,Citral:Farnesol, Eugenol, Isoeugenol, Benzyl Benzoate, Geraniol,Linalol, Benzyl Alcohol, Benzyl Salicylate.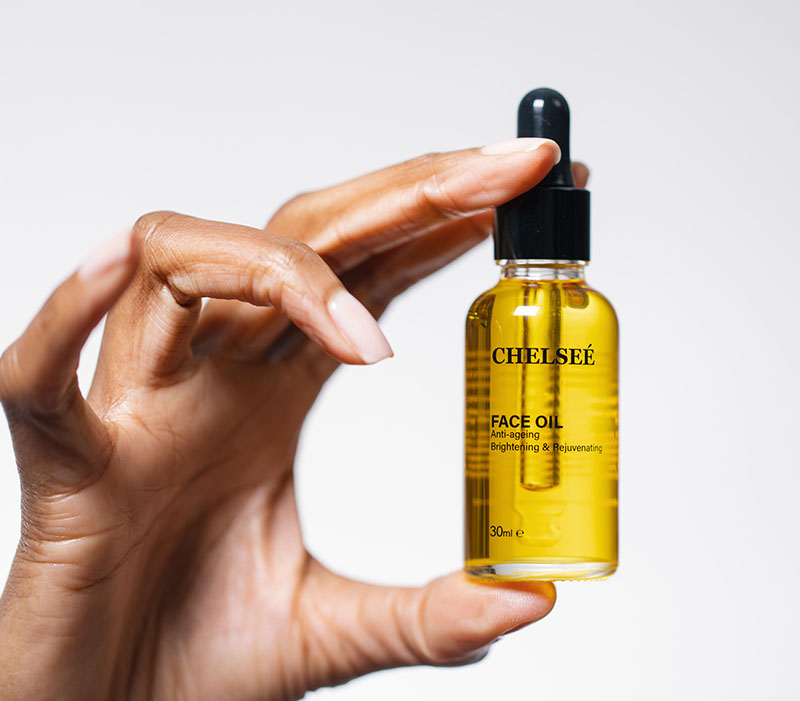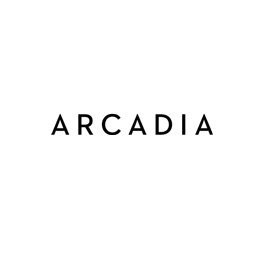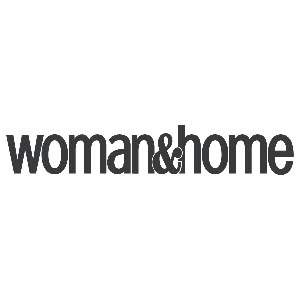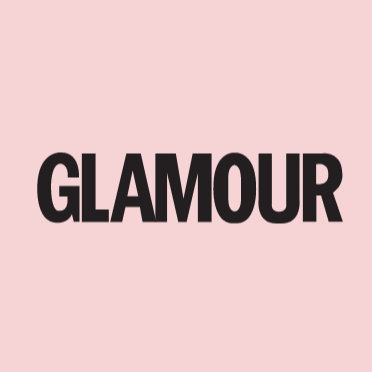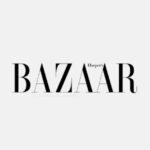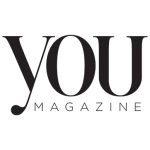 This oil is a serious multi-tasker. Vitamin A-enriched cacay oil and the fatty acids in pracaxi oil are good at softening the look of pigmentation, scars and wrinkles. There's also a hefty dose of hydrating squalane, which is similar to our skin's serum and exactly what our dry, winter complexions are screaming out for.
The oil goes onto the skin very smoothly – a few drops are all that's needed. The rich texture feels extremely nourishing, and the soothing, moisturising effect lasts all night. In the morning, skin feels soft, smooth and hydrated. The oil also smells fabulous; the combination of scents has a deeply relaxing effect, perfect for a good night's sleep.
I love your oil. Full of rich and nutrient ingredients. Penetrates the skin and does not leave an oily residue. Do not forget the décolleté! It is part of my evening routine and I can see the difference that it has made. 5 stars from me!!!
– Facial in a bottle.
– Love the smell, love the feel, love the results.
– I love using Chelseé's facial oil before bed. The smell and feel is amazing with the added advantage I wake up in the morning looking refreshed.
I absolutely love this oil, it's simplified my night time routine, just cleanse & then massage the oil in, it's everything your skin needs.
My skin is brighter & springier after just a couple of weeks.
An absolute treat to use & fantastic results
I want to thank you for turning me on to your wonderful, therapeutic, anti-ageing face oil. I use it almost every night and even sometimes during the day, when my skin feels a bit dry from the weather, here in California. 
After turning 50, I noticed my skin dropping a bit around my neck. I've been using your oil with my guava quartz stone and I've really seen a difference in firmness. 
I would be remiss not to mention that both my significant other and I love the smell. 
I will recommend to all my friends in California!
I have been using Chelsee Faceoil for 2 years. The oil is a real treat for my dry skin, especially in the cold winter time. I love using the oil in the evening when I massage it on my face. A great routine before sleeping as it smells absolutely divine. 
As a (male) child of the 70's, I am late to the party and haven't always been diligent with my evening face ritual.
But with Chelsee's face oil, I now look forward to washing my face and applying her oil. Something about it soothes me before sleep. The aromatherapy elements and the softening of my skin gives me a sense of calm before bed. And I wake-up refreshed the next day and ready to take on the world. Thank you.
Chelseé's Face Oil has become a staple in my regimen. I use it 3-4 times a week and it's made my skin brighter and improved the texture. Also, I'm usually not a fan of fragrance in products but everything Chelseé uses is incredibly calming and this oil does the same.
This face oil is hands down the best on the market. It's the only oil that manages to hydrate my skin without causing it to break out.
It has completely changed the appearance of my skin from being dry and tired to bouncy and hydrated. Not to mention it smells amazing!! An absolute must have!
This oil is like taking home a bit of a Chelseé facial. Magic in a bottle. Skin feels and looks amazing.
I'm really glad I discovered the Chelseé face oil , it's fantastic , it leaves the skin feeling velvety when I use it in the evening!
Chelsee's face oil is like heaven in a bottle, and it's become a ritual that I look forward to every night before bed. It's the best fragrance amongst all night oils I've ever used, so soothing and prepares me for bed. Love the texture as well, you only need 2 to 3 drops and makes my skin feel super soft in the morning. I'm going to keep coming back for more!
Chelseé really has pulled it off with this oil. It's now a ritual every evening. The smell is just wonderful, perfect for the end of the day but the additional nourishing effects really do work !
I love your oil. It has a very subtle aroma, penetrates de skin very well and helps me sleep more deeply. A little drop goes a long way leaving the skin supple and moist.🌟🌟🌟🌟🌟